We've compiled seven of our favorite kitchen backsplashes featuring our handmade tile. From a rustic English kitchen to a classic traditional kitchen in gray & white, we hope you'll enjoy our trip down memory lane in honor of Julep Tile's 7th birthday!
#1 – Cozy East Coast Kitchen
The accent tiles in this backsplash add a fun pop of color against a subtle white background. The crisp white countertop and warm cabinet color tie it all together.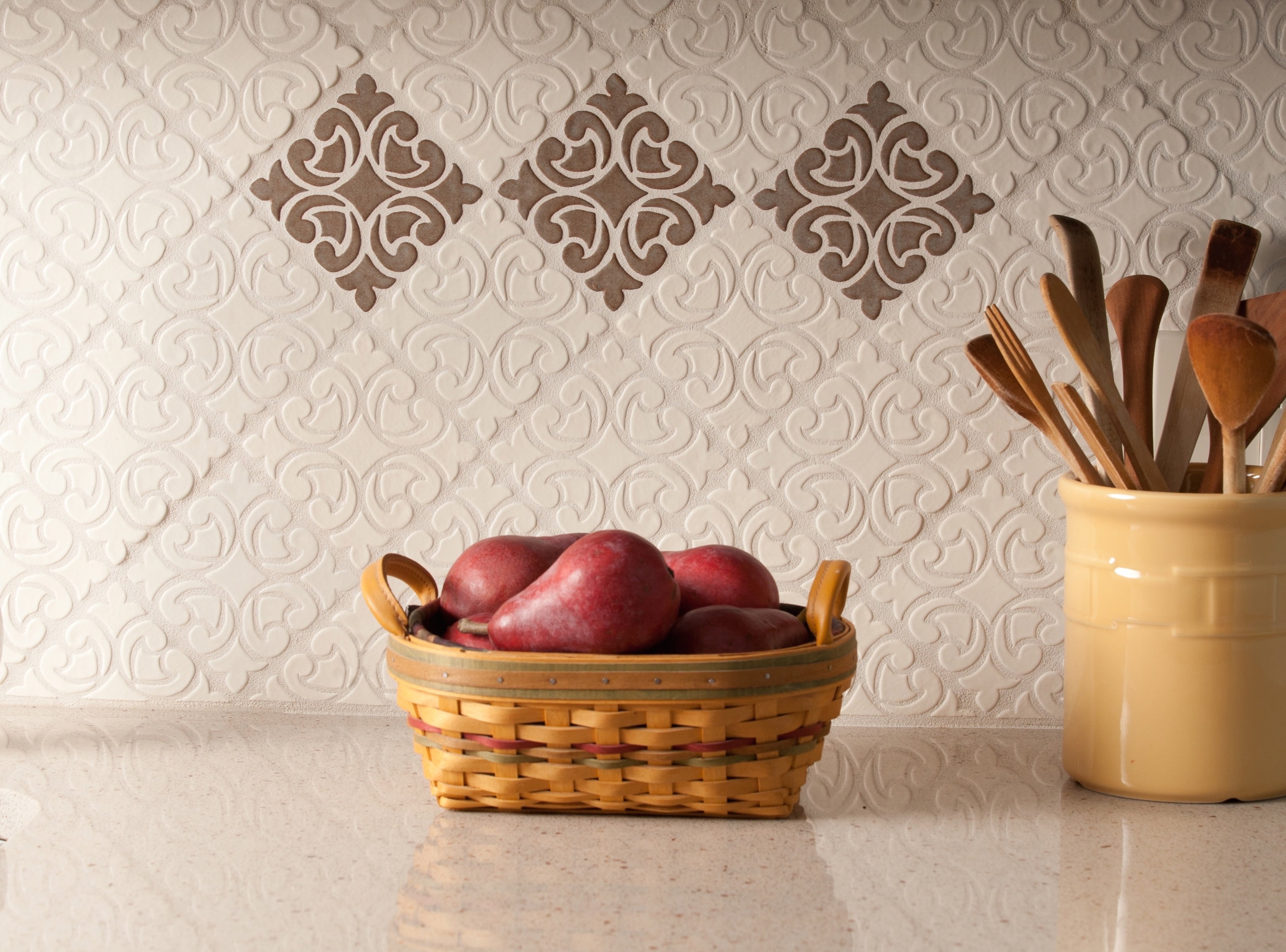 Shown above: Hiser pattern in Stone Gray & Glossy Soft White

#2 – Beautiful in Blue
This bright, airy kitchen feels like it should be a few steps from the beach! The niche above the range is the perfect place to feature our decorative Bloom pattern. Pairing it with our handmade subway tile in a Sky Blue Crackle glaze adds some sparkle to this gorgeous kitchen. Thanks you to Decorative Materials International & Alexa Interiors for coordinating this project.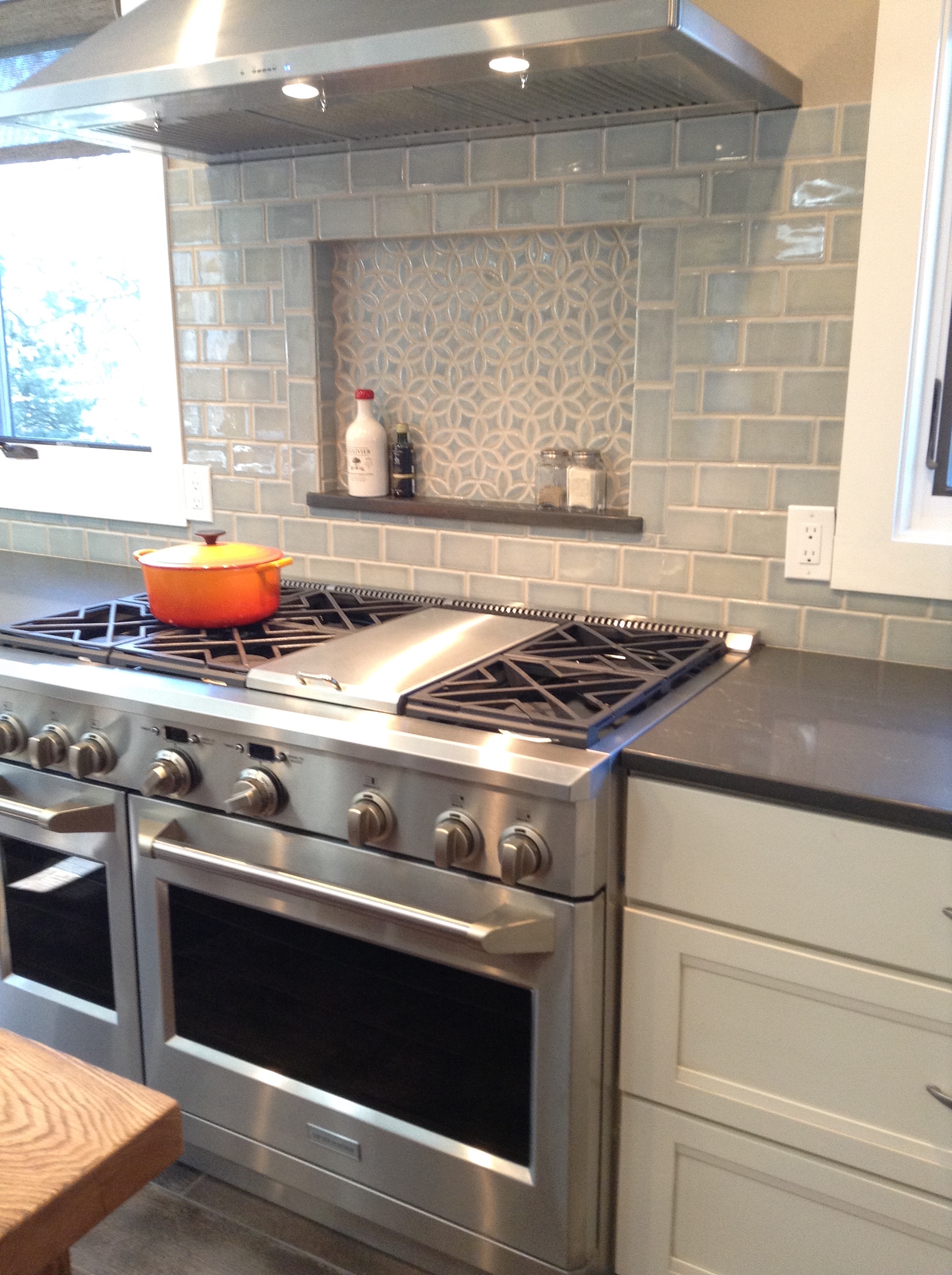 Shown above: Bloom pattern and Subway Tile in Sky Blue Crackle

#3 – Charming English Cottage Kitchen
We couldn't love this kitchen any more if we tried. The backsplash features our subtle Cream Crackle glaze which allows the texture of the Bloom pattern to shine. The soft colors of the cabinets and warm wood tones are so cozy they make us want to sit around and drink tea all day.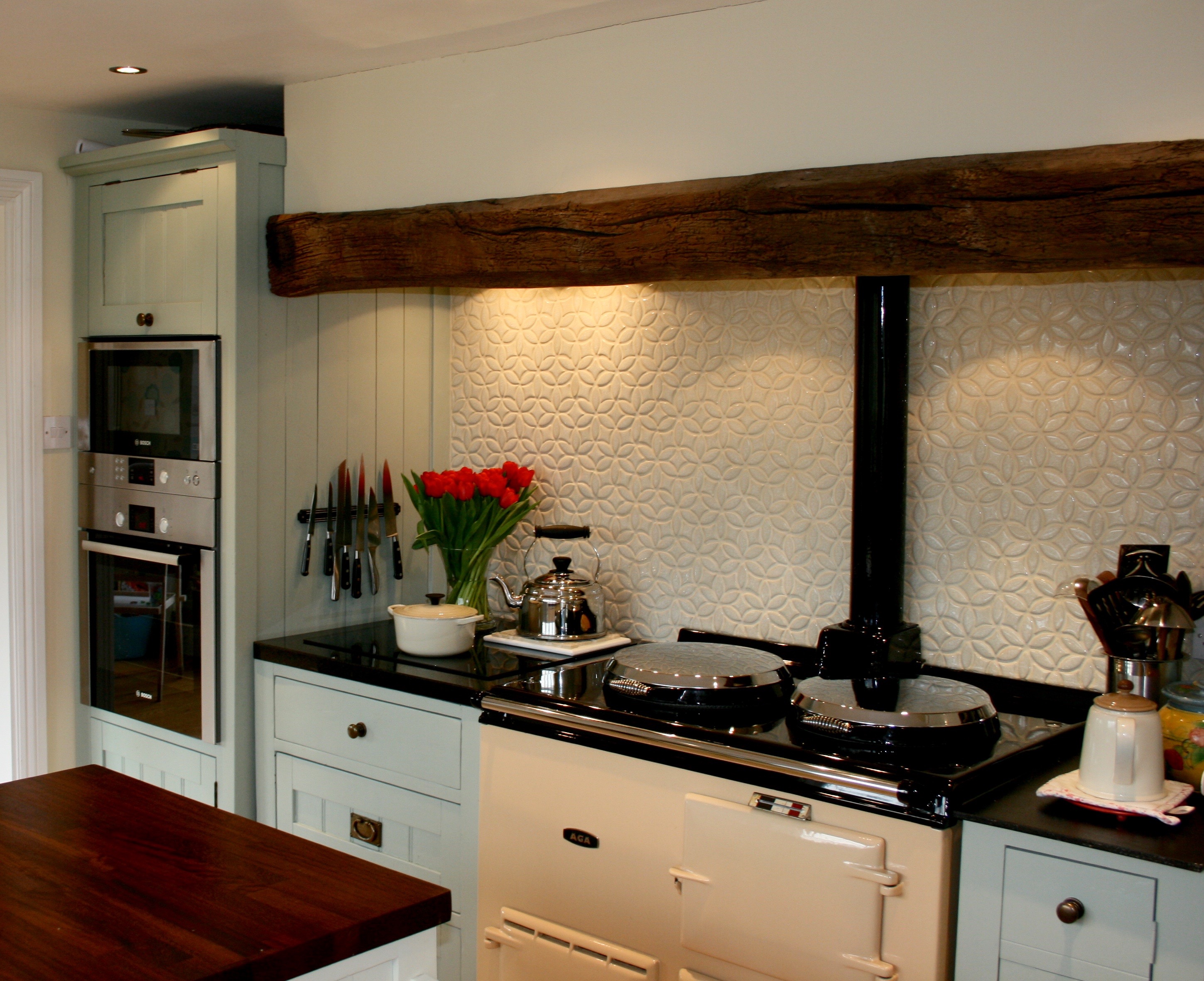 Shown above: Bloom pattern in FC Cream Crackle

#4 – Classic Kitchen in Gray & White
The elegant white cabinets and beautiful stone counters in this kitchen are the perfect companions for this backsplash featuring our Damask pattern in Slate Gray. Thank you to The Water Closet for coordinating this project.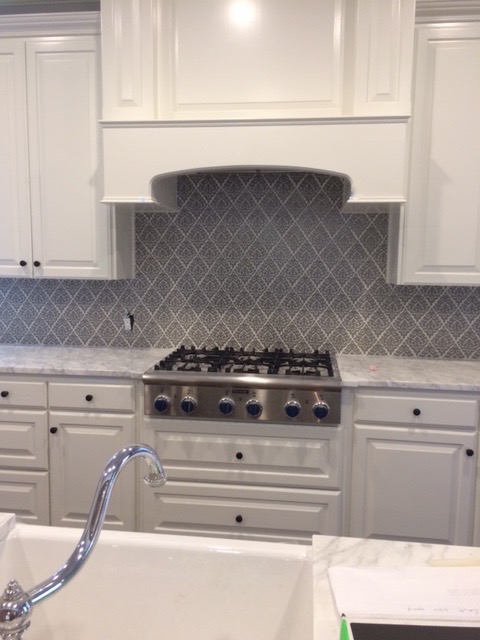 Shown above: Damask pattern in Slate Gray

#5 – Sophisticated in White
Soft whites and neutrals abound in this kitchen featuring a handmade tile backsplash. The Fence pattern seen here is a cousin of our new, larger Gate pattern. Thank you to Surface Group International for coordinating this project.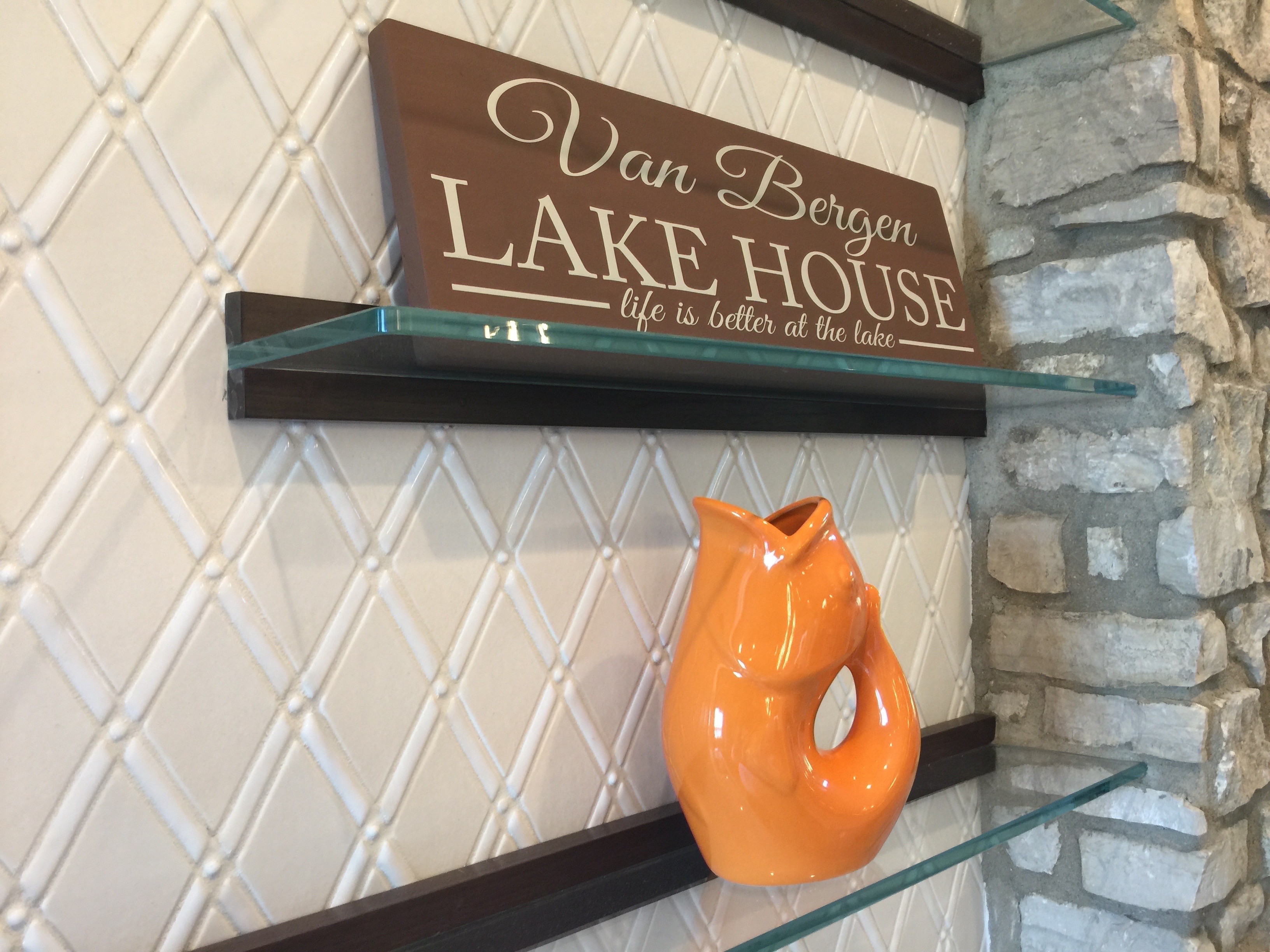 Shown above: Two-Color Fence (now Gate) pattern in Satin White and Glossy White

#6 – A Kitchen Made For Tile Makers
The best thing about remodeling your kitchen when you own a tile company? You get a good deal on your backsplash! Here in Peter & Kirsten Sharp's former kitchen, the neutral backsplash allows the striking quartz countertops to shine. They've since moved from this home and are trying to gather the courage for kitchen remodel #2!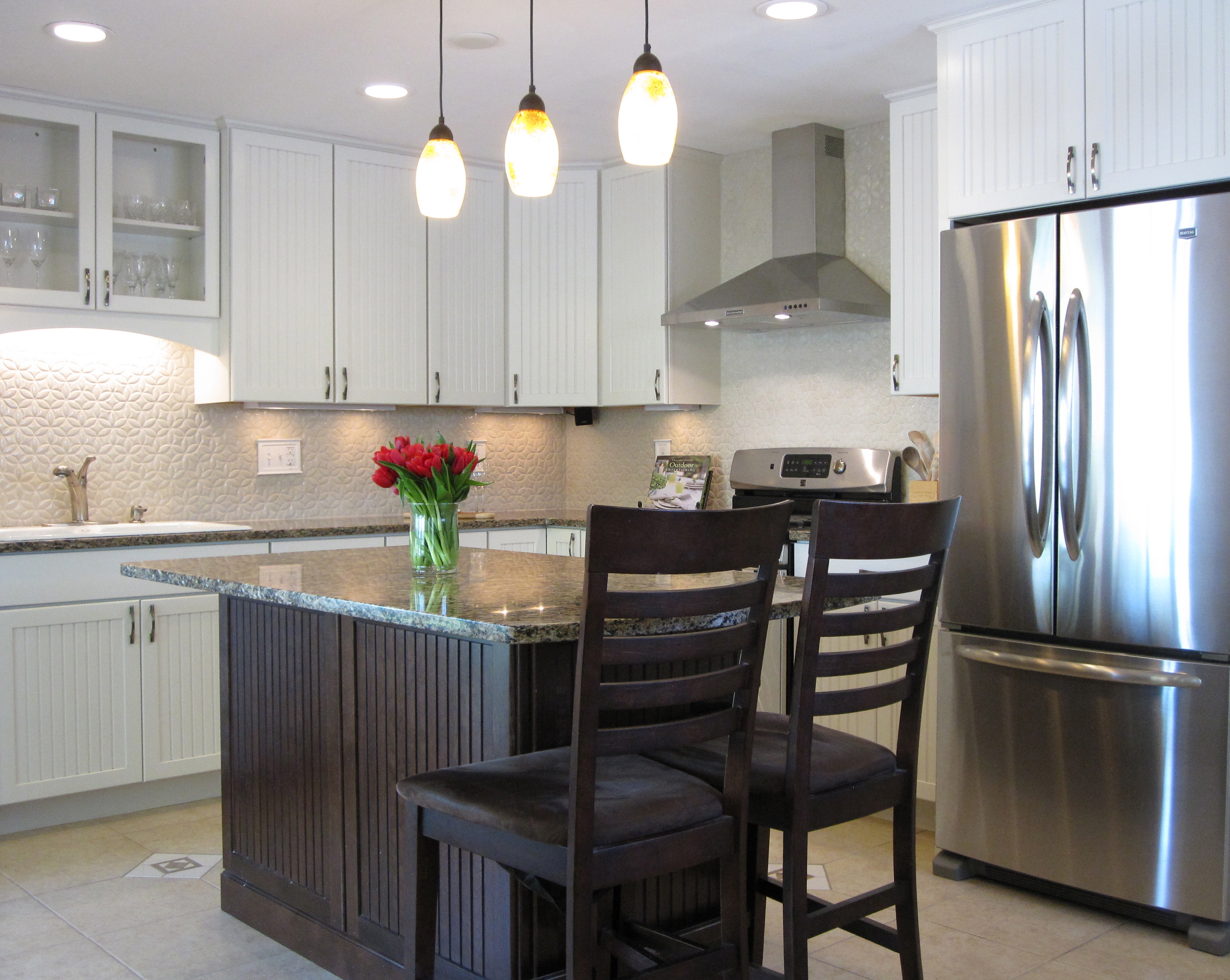 Shown above: Bloom pattern in FC Cream Crackle

#7 – Elegant Victorian
Last but certainly not least, this is a photo from the kitchen remodel at Kirsten's parents' Victorian farmhouse. This may be our favorite remodel yet and we're honored to have our tile featured on the kitchen backsplash.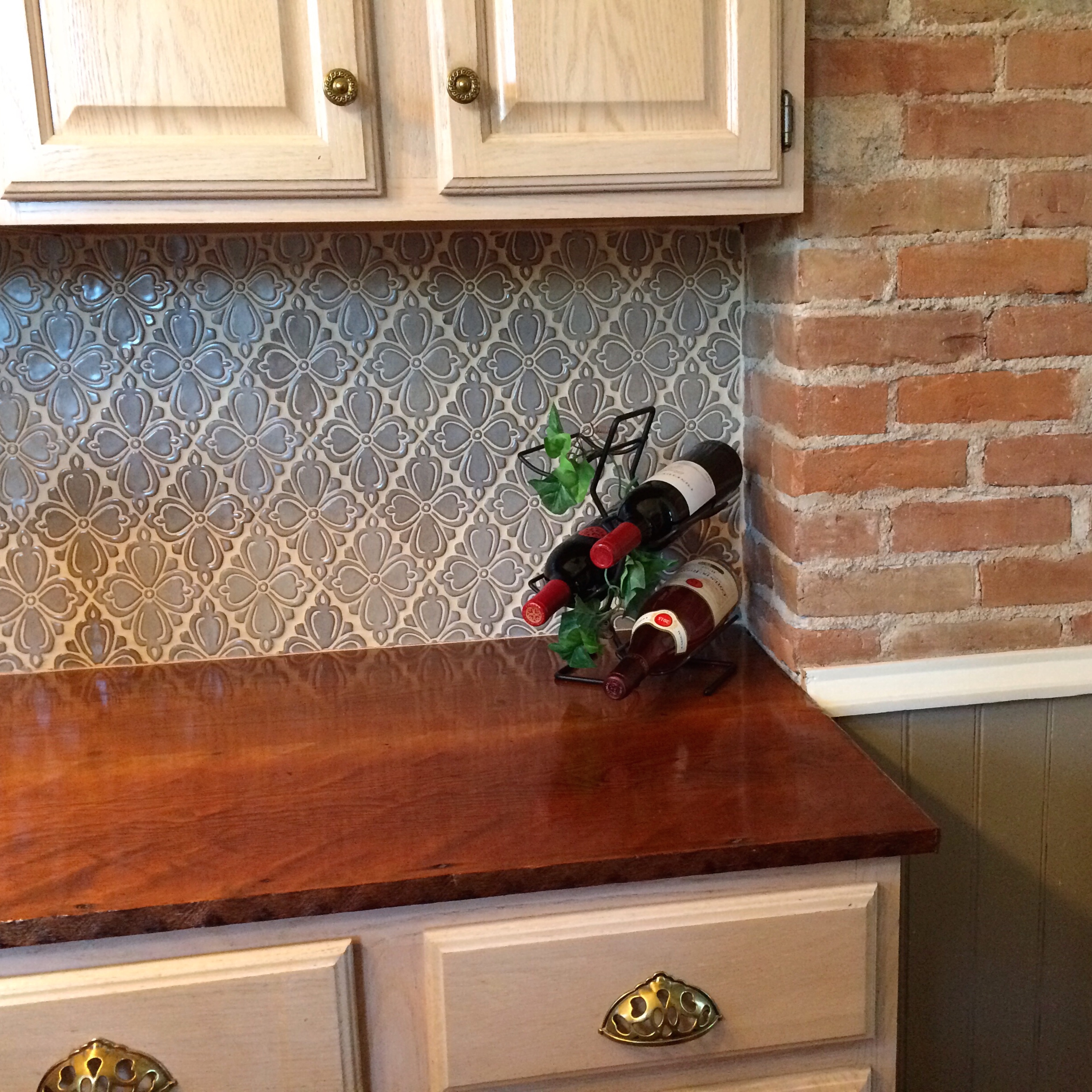 Shown above: Brocade pattern in Stone Gray

Dreaming about your own home remodel? Get started by ordering samples or feel free to contact us with any questions. We'd love to help.
Happy tiling!