Have you fallen in love with tile that doesn't fit in your kitchen renovation budget? Not to worry, we have a few ideas on how to incorporate it into your backsplash without breaking the bank.
Tip #1: Mix High-End Tile With Field Tile
If you're not familiar with the term, "field tile" refers to more basic square or rectangular tile (like subway tile) that is often less expensive than decorative tile.
If you can find a field tile that's the same size as the high-end tile you like, consider mixing the two together. You could do a checkerboard pattern as shown below, or for even more cost savings you could just sprinkle in a few high-end tiles.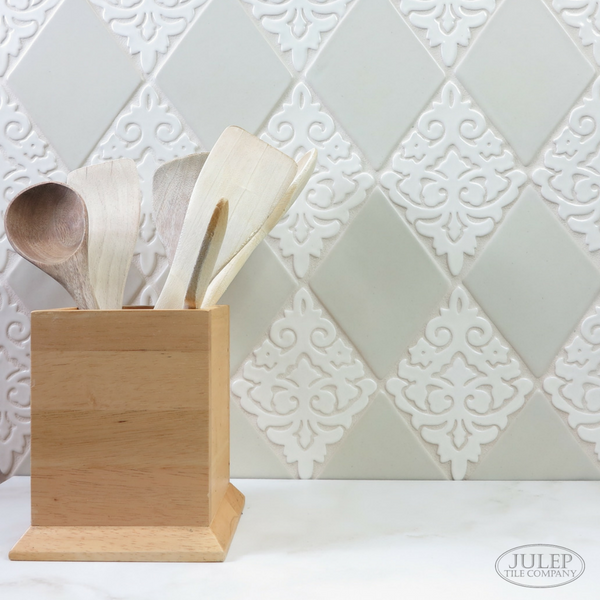 Shown above: Damask Handmade Tile in Glossy Soft White & Diamond Field Tile in Wheat
HOW TO USE IT: We have a couple options for field tile that are designed to intermingle with our decorative tile. Our Diamond Handmade Tile mixes with Damask or Brocade tiles, and our 4-1/4 x 4-1/4" Field Tile mixes with our Cobham and Hiser tiles.
Tip #2: Add A Tile Feature Over Your Oven
Not only is this a great way to showcase that special tile you love, but it also creates a strong focal point in your kitchen (while saving you money!) We've seen tile features done a few different ways:
A Mini Backsplash: Install the high-end tile to cover the entire width of your oven range and all the way up to your hood or cabinet above. You could use decorative corbels to separate the tile feature from the rest of the backsplash like in the photo below, or you could also use a simple Pencil Liner.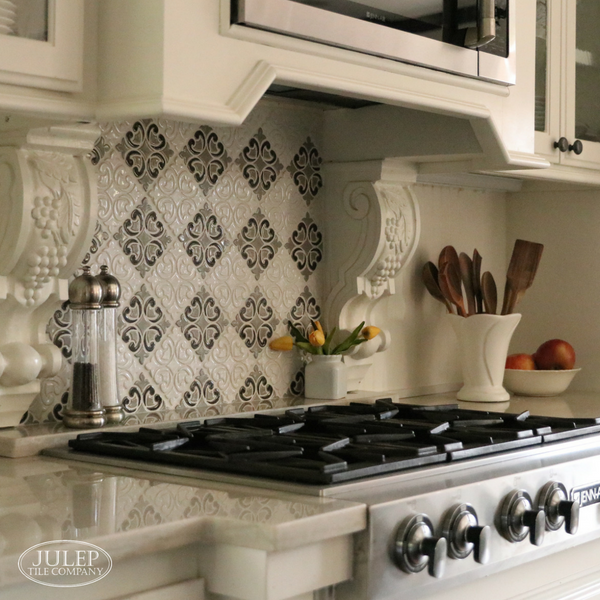 Shown above: Two-Color Hiser handmade tile in Slate Gray & Black Watercolor, Hiser handmade tile in Glossy White
Create A Niche: We love this idea because it's also a great storage spot for your salt & pepper shaker or decorative accents.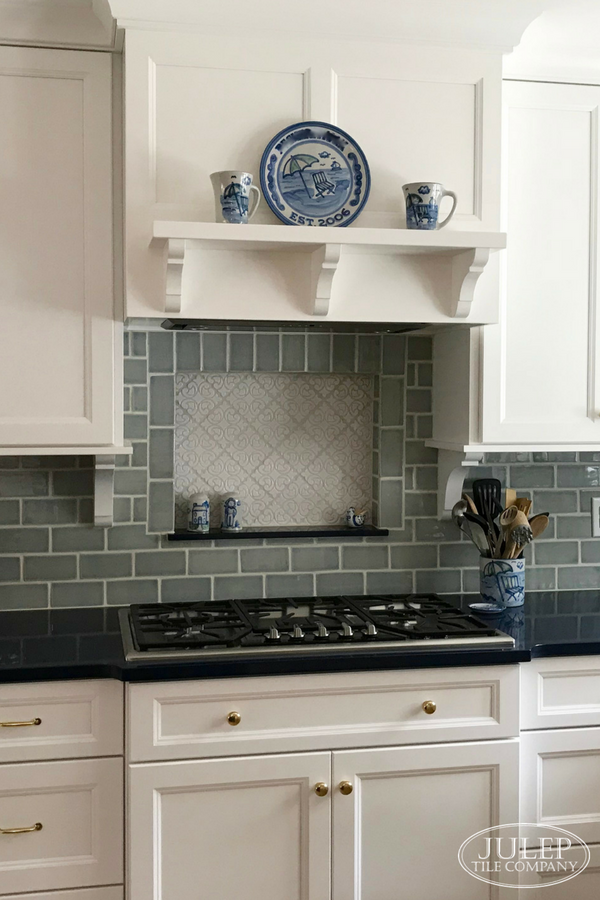 Shown above: Hiser Handmade Tile in Glossy White with 3x6" Subway Tile in Julep Crackle
Picture Frame Feature: Surround your special tile with trim and subway tile as shown below.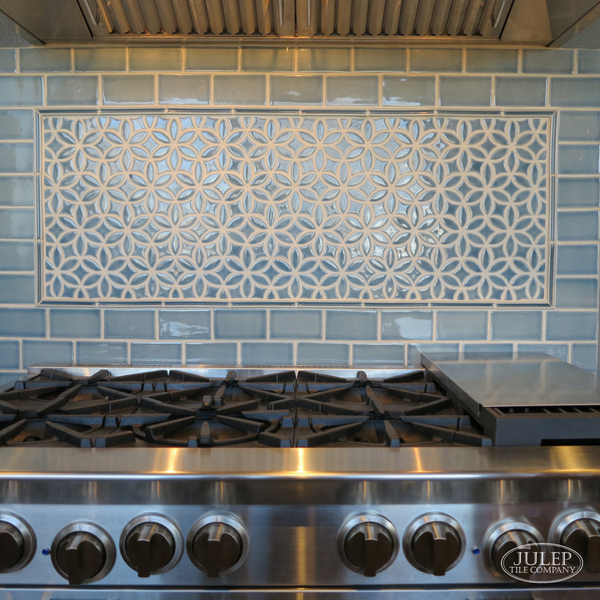 Shown above: Bloom Handmade Tile, Small Channel Liner & Subway Tile in Deep Blue Crackle
HOW TO USE IT: We recently released a collection of Precut Decorative Inserts. We cut the top, bottom, and side edges of the feature here to make your installation is a cinch.

Tip #3: Add A Decorative Border Around Your Backsplash
Not only does this save you money, but adding a border around your backsplash can make your kitchen look bigger. Add some Trim, Subway Tile and you're done!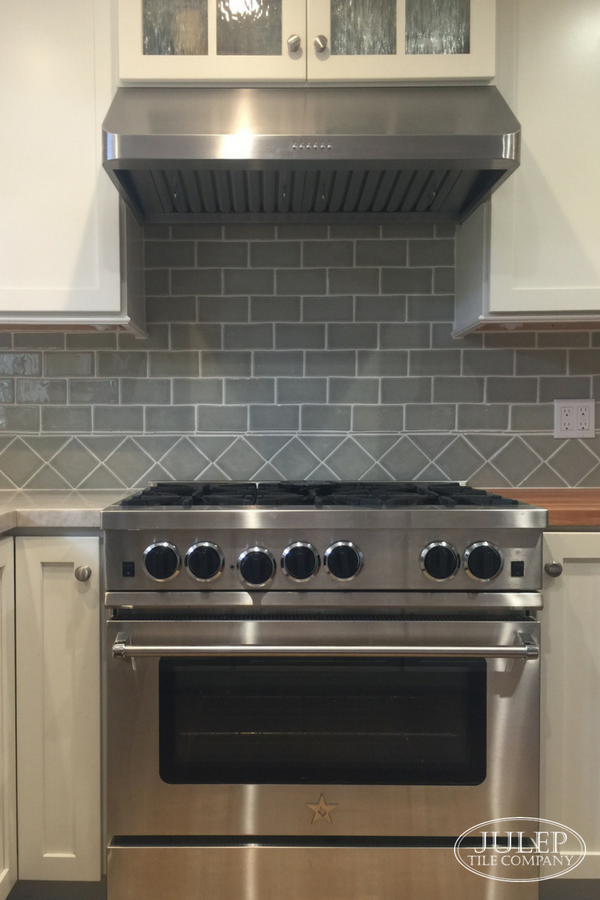 Shown above: Custom 4-1/4 x 4-1/4" Border (call for pricing) with Pencil Liner & Subway Tile in Julep Crackle
HOW TO USE IT: We offer precut Decorative Borders to make your installation easier.

Tip #4: Choose Your Colors Carefully
Some tile manufacturers charge more for certain glaze colors if they're harder to apply or more expensive to source. The price of our tile is the same regardless of which glaze color you choose. Our Two-Color Tile, however, is more expensive than a single color tile because of the labor involved with the glaze application.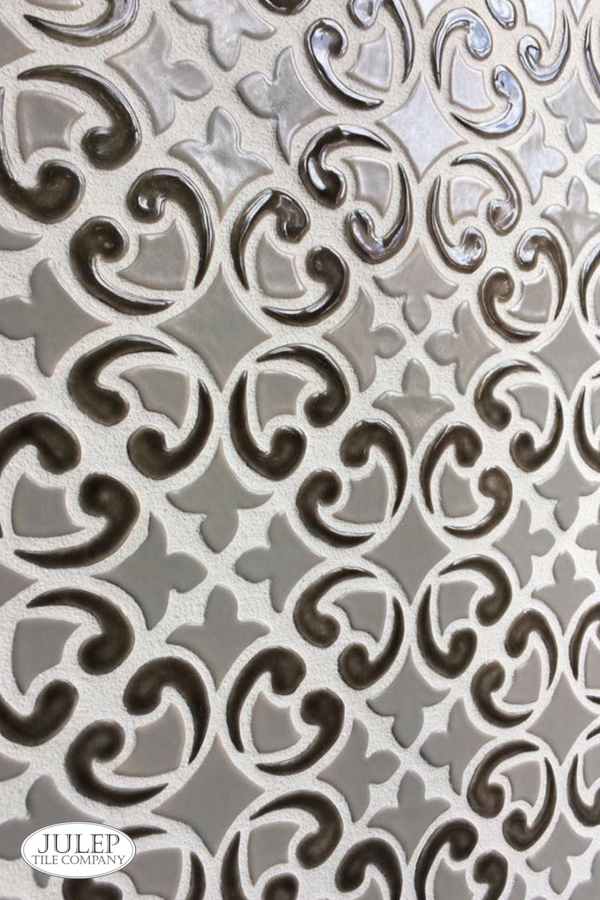 Shown above: Two-Color Hiser Handmade Tile in Black Watercolor & Slate Gray
If you love the look of Two-Color Tile but can't fit it in your budget, consider ordering half your square footage in one color, and half in another color. Mixing the two colors together in a checkerboard pattern could give you the effect of Two-Color Tile without the cost. (Note: not recommended for the interlocking Bloom or Gate tiles).
Feeling inspired to start your own kitchen renovation? Check out our handmade tile samples here.
Questions? Call us! We love talking to clients about their home renovation projects.
Happy Tiling!