If picking paint colors for your house is giving you major anxiety, we've got you covered! Today we're pleased to share an interview with color expert Michelle Marceny of The Color Concierge. Here she shares tips on how to use paint colors to create flow throughout your house.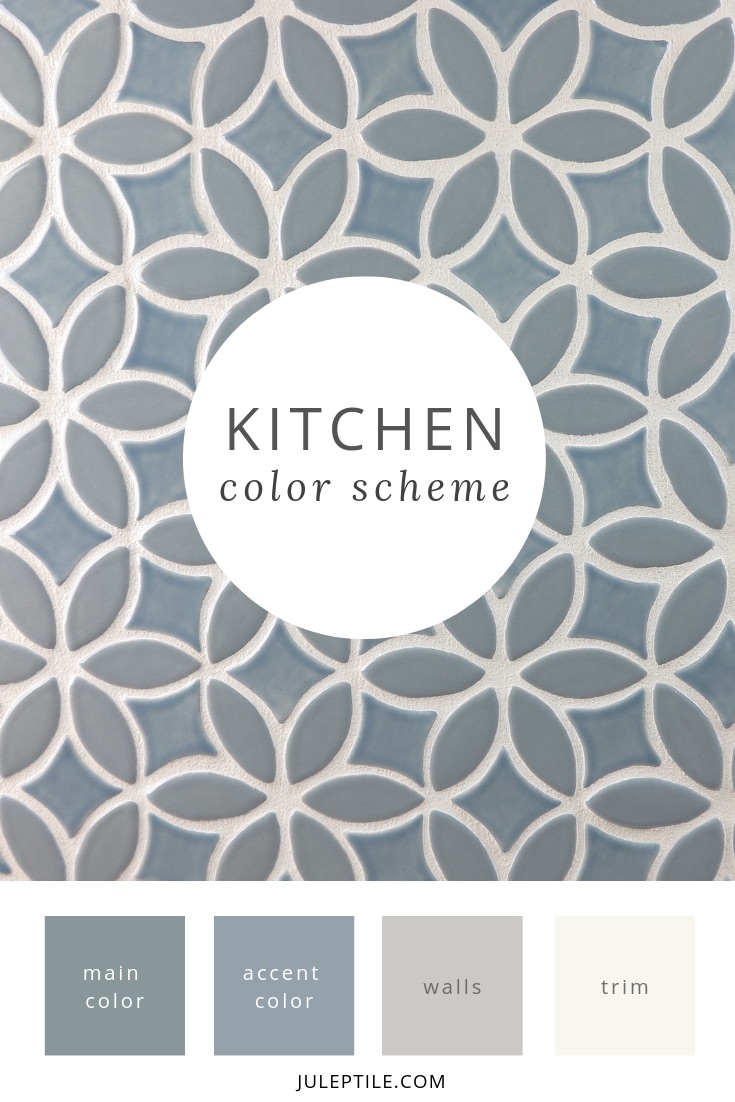 Shown Above: Two-Color Bloom handmade tile in Blue-Gray (Main Color) & Light Blue Watercolor (Accent Color) | Walls are Sherwin Williams Zircon | Trim is Benjamin Moore Simply White
How Do We Get Started?

MICHELLE: We always start in the kitchen. It's the heart of a home, and the countertops, backsplash and floor set the palette. Use a neutral in your countertop as your starting point. Before you start painting, we always recommend that you create a color plan, and start from your kitchen. If you have earthy granite countertops, stick with muted colors and creamy whites. For Carrara Marble, pick cool crisp colors such as Chantilly lace white for the trim, and clean blues and greens. If you have quartz counters, take your cue from the colors in your counter.
I always decide on the trim color in the kitchen, based on the countertops too. If you paint your trim, I always recommend the best white that goes with the countertop for the whole house.
Tips For Picking Wall Colors?
MICHELLE: The best way to pick a paint color for a room is to get inspiration from your favorite piece of art, a throw pillow, your couch color or a hard finish such as a countertop, floor or tile surround.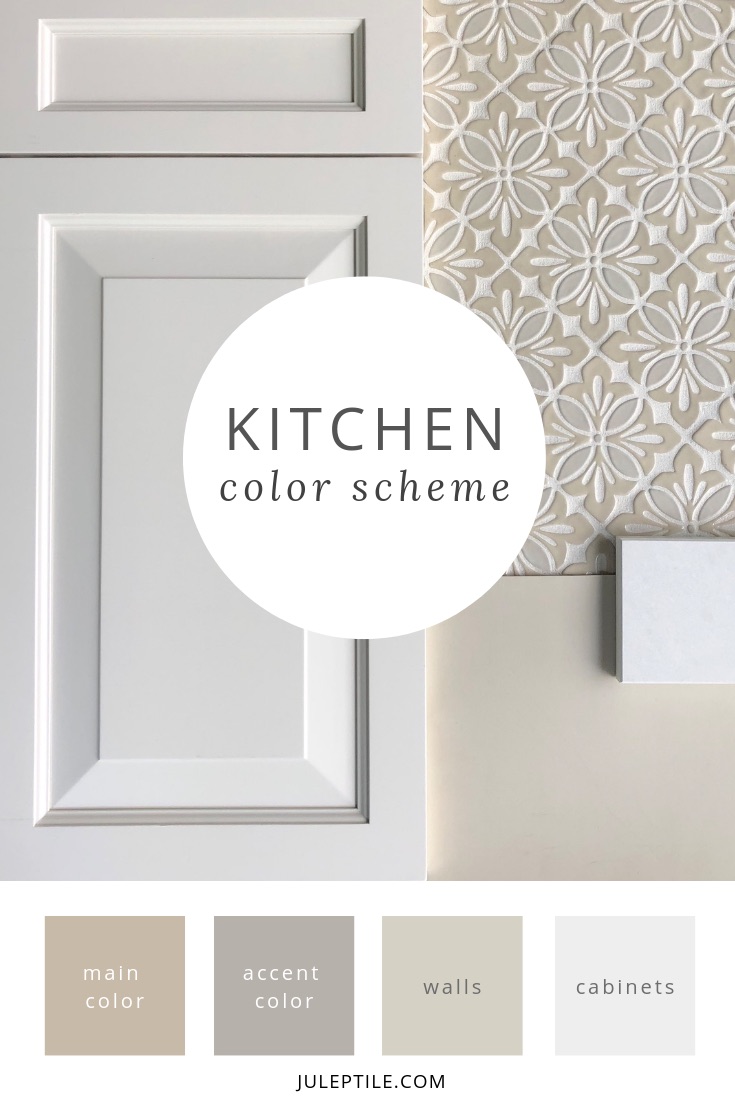 Shown Above: Two-Color Cobham handmade tile in Cream (Main Color) & Wheat (Accent Color) | Walls are Benjamin Moore Manchester Tan | Cabinets are Wedgewood Raised Panel Cabinet in Melted Brie
And If We're Still Stuck?
MICHELLE: My favorite no-fail color for interior walls is Benjamin Moore Manchester Tan (Sherwin Williams Softer Tan). It is a green-beige that goes with everything. You may be able to find a more perfect color for the space, but Manchester Tan will almost always work. For trim, I like Benjamin Moore Simply White and Cloud White.
For exteriors, Benjamin Moore Rockport Gray is another no-fail color. It is the color of rocks, and goes with almost everything.
No matter what, though, always always test your colors!
How Do You Create Flow Throughout The House?
MICHELLE: One of the ways we create continuity is by specifying the same color for all the trim in the house, starting with the trim in the kitchen. If you have painted trim, I like to recommend a white. For the ceilings, I choose the same color for the ceiling as the trim, or one shade cooler if the ceilings are low. The only exception is in the bathrooms. If you choose a white or light neutral, we often paint the bathroom ceiling the same color as the walls to make the room look larger.
Shown Above: Damask Handmade Tile in Glossy White | Grout is MAPEI Keracolor Sanded Grout in Biscuit | Vanity is Benjamin Moore Pigeon Gray | Walls are Benjamin Moore Chantilly Lace
Which Finishes Should We Use?

MICHELLE: Think of it this way - start with the glossiest finish near the floor, and the flattest on the ceiling.
Ceilings should always be flat.

Walls should have a mid-sheen such as eggshell, matte or satin.

Trim, baseboard, crown molding, cabinets and door sheens should match. We recommend satin for a modern finish, but some people use semi-gloss too and that's ok.
How Should We Test Paint Colors?

MICHELLE: It is so hard for anybody, even the experts to see a color from a paint chip. When you look at the sample on top of the current color makes it impossible to see what you are doing.
When we do color consultations, we have large 11" x 14" poster boards painted with colors. We always put a white background in back of the color so that we don't get distracted by the current finish. Then it becomes really clear if you have the perfect or awful color when you compare with your hard finishes.
For more information on how to test colors, check out our blog, "How to Test Colors Like a Pro".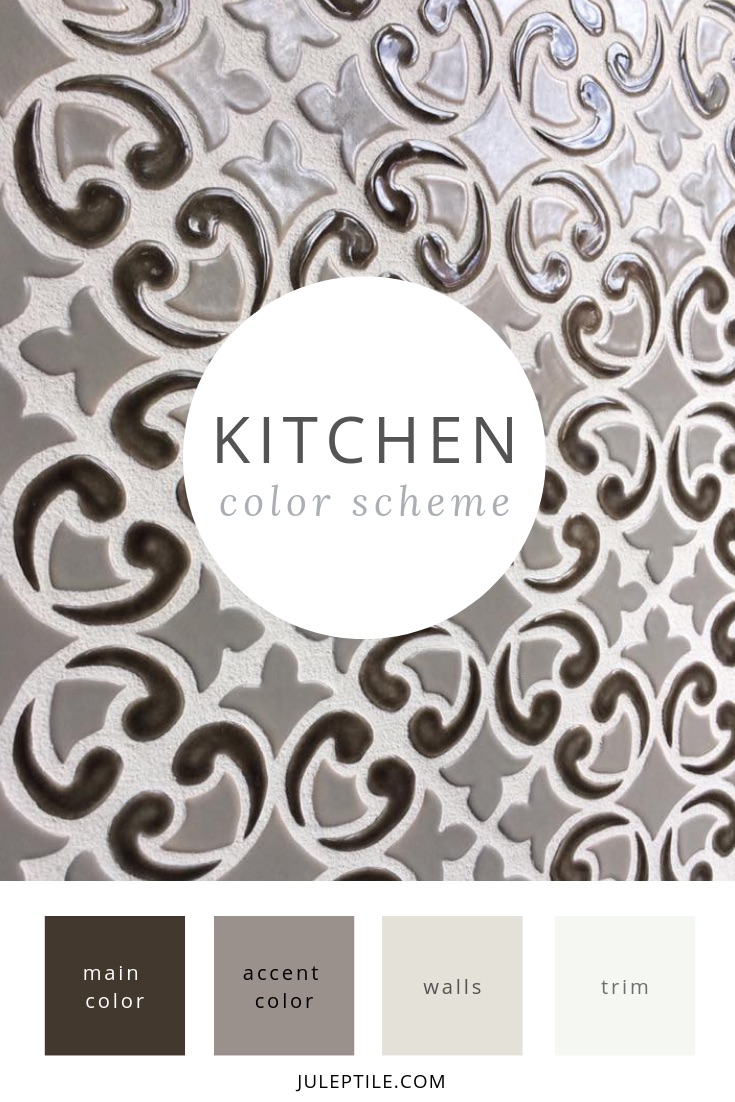 Shown Above: Two-Color Hiser Handmade Tile in Black Watercolor (Main Color) & Slate Gray (Accent Color) | Walls are Benjamin Moore Classic Gray | Trim is Benjamin Moore Chantilly Lace
Where Can We Learn More?



MICHELLE: Check out our blog for paint color ideas, inspiration and trends. We also offer a FREE paint guide when you subscribe, 8 Brilliant Ways to Pick Paint Colors, An Insider's Guide to the Perfect Palette for your Home.
------------------------------------------------------

Many thanks to The Color Concierge for being on our blog!
Just like picking paint colors, the best way to pick tile is to see the colors in person. You can check out all our sample packs HERE.