Posted by Kirsten Sharp on Dec 17th 2020
Oh, the kitchen island. I had one in my last kitchen and I miss it dearly! They're useful for so many things: entertaining, food prep, and doing homework to name a few. If you're thinking of adding an island to your kitchen renovation, I've got a few ideas for you.
1. Moveable Island
I spoke with a client recently who's in the midst of renovating a large kitchen said her new island is "large enough to be its own continent". I got such a kick out of that!
With that said, not all of us (including yours truly) have enough space to add a large island. But don't despair! Consider adding a moveable one like the wooden island shown below. It's the best of both worlds as you can use it when you need it, and move it out of the way when you don't.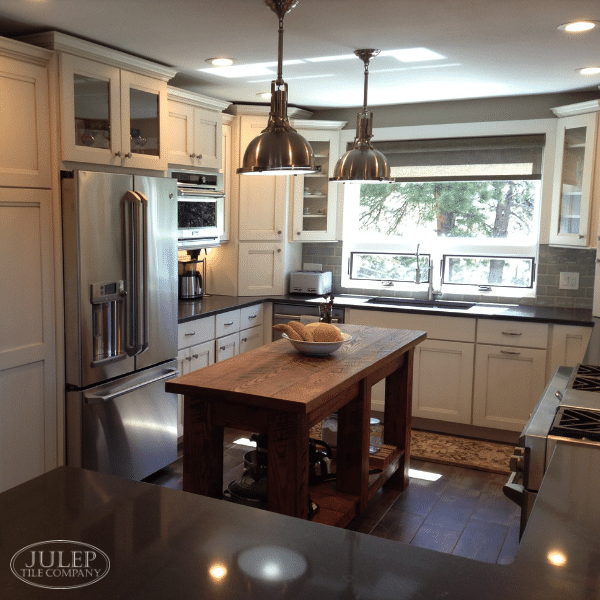 Shown Above: 3x6" Handmade Subway Tile in Sky Blue Crackle / Design: Decorative Materials and Alexa Interiors
2. A Place To Hide Appliances
Depending on the layout of your kitchen, an island might made the perfect spot to house an oven (or two)!: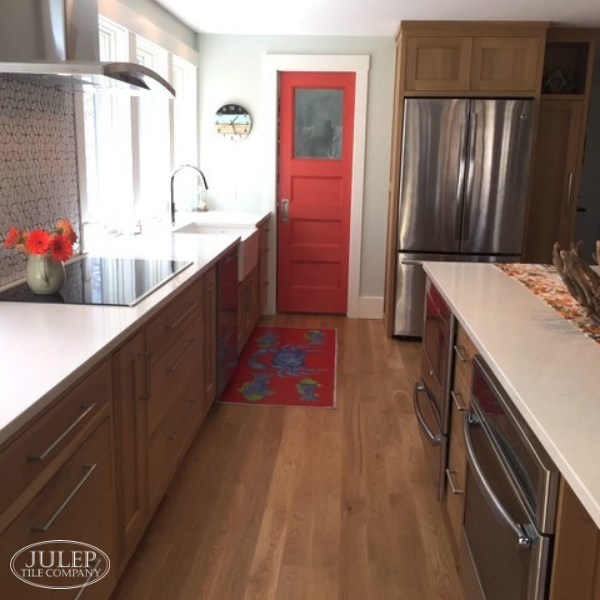 Shown Above: Bloom Handmade Tile in Glossy White
Or perhaps a wine fridge? I mean, think of the convenience! You're sitting at one of these cute bar stools and just lean over to pour yourself another glass of wine. Heavenly.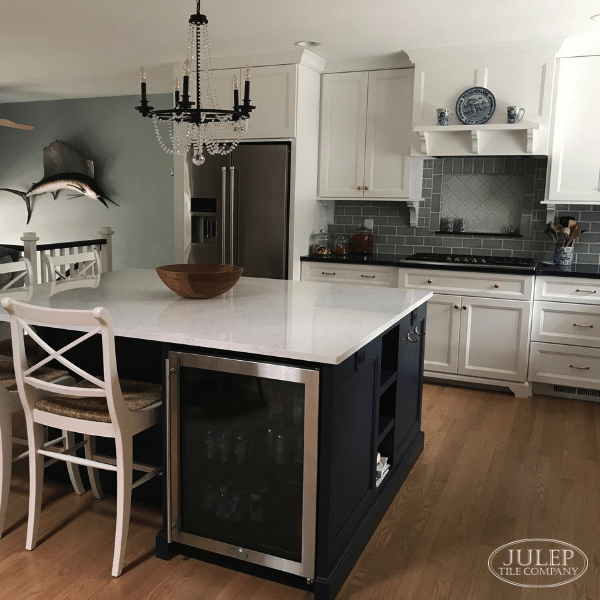 Shown Above: Hiser Handmade Tile in Glossy White (above stove) and 3x6" Handmade Subway Tile in Sky Blue Crackle
3. Additional Seating
While a kitchen island usually provides an opportunity to line up a row of bar stools, we love how our friends at Splendid Home Design used it to add an entire seating area.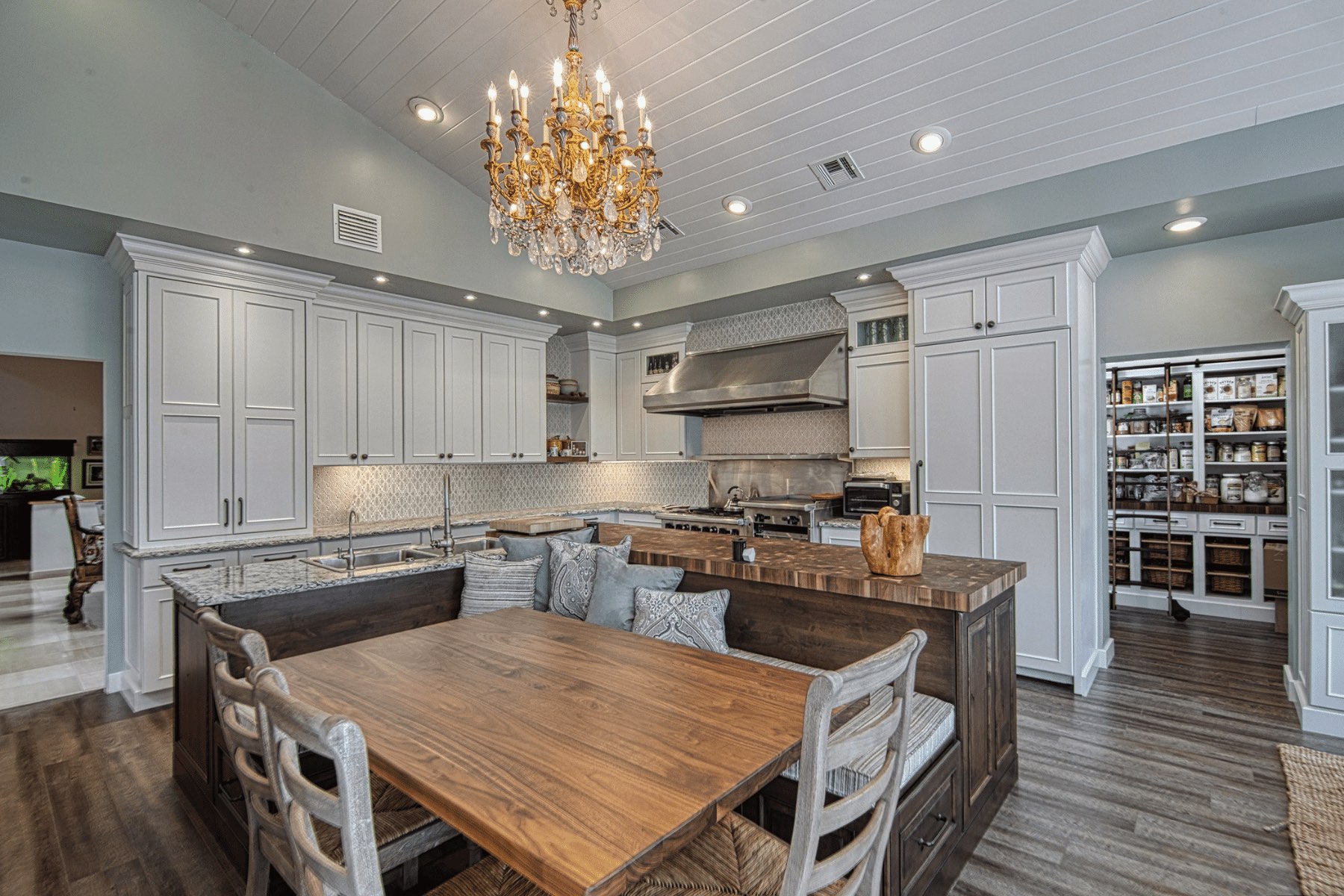 Shown Above: Brocade Handmade Tile in Light Gray & Satin Silver / Design: Splendid Home Design
4. Pop of Color
If you love color but don't want to commit to having it on all your kitchen cabinets, why not choose a colorful island? Kitchen islands are often designed to look more like a piece of furniture than actual cabinetry, so it's a natural place to add some color. We love the navy island in this kitchen here:
Shown Above: Cobham Handmade Tile in Slate Gray
It's also a great place to warm up a white kitchen with wood tones as shown here: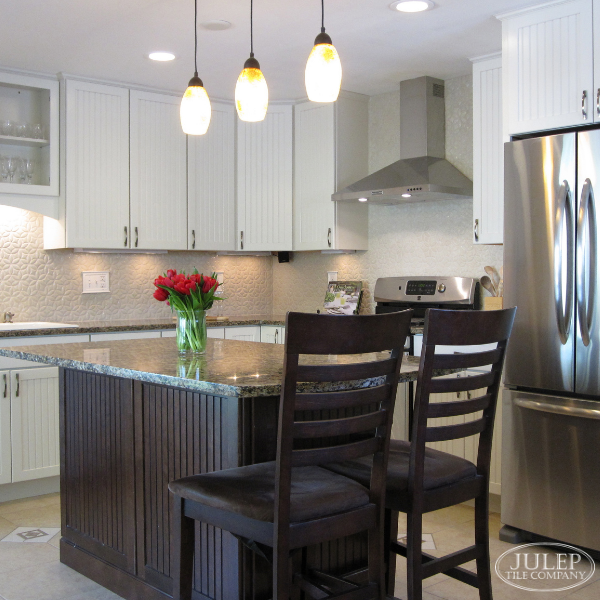 Shown Above: Bloom Handmade Tile in FC Cream Crackle
5. Double Island
I know we talked about this last week but I couldn't help adding it to this post! Double islands are becoming more popular for a variety of reasons - they give you twice the counter space, allow more room for appliances and create better traffic flow which is especially ideal in large kitchens.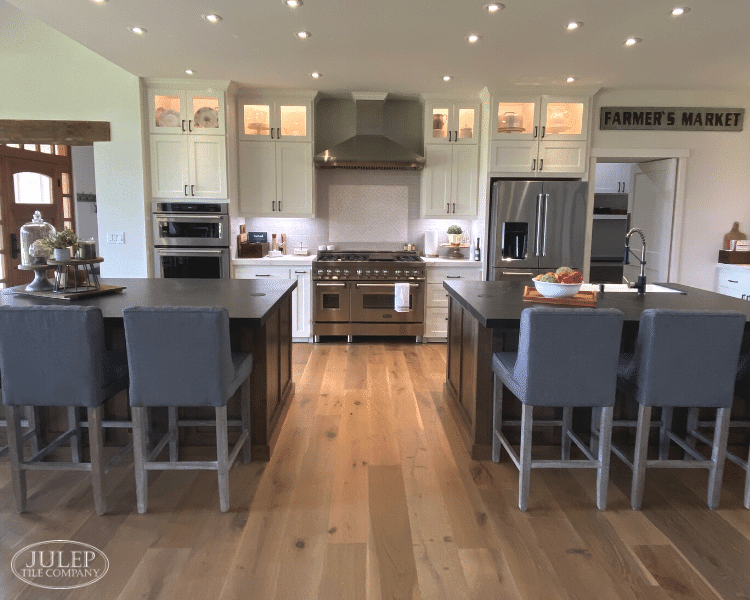 Shown Above: Cobham Handmade Tile Decorative Insert in New Satin White
Are you planning on adding a kitchen island in your renovation? Or maybe you're just dreaming about a renovation and don't know where to start? We recently launched a new "Start Here" page with tips and tricks for any stage of your remodel. You can check it out here.
And if you'd like to order samples, you can find those here: