If you've been wistfully wishing you had a larger kitchen, don't despair. Size isn't everything! In fact, a well-designed smaller kitchen can be just as lovely and functional as a larger kitchen. Here are a few of our favorite tips for making your space feel light, bright and spacious:



1. Choose Your Colors Wisely



You may have heard that dark colors make a room feel smaller, and light colors can make it feel bigger. While we would agree with this, we don't think it means that you have to do "white everything" in a small kitchen. In fact, we would argue it's most important to use lighter colors from the countertops upward. This will draw your eye up, and make your kitchen feel larger than it is. So consider choosing light colors for your countertops, backsplash and upper cabinets at least. If you want to use a darker accent color on your lower cabinets, go for it!
Shown Above: Hiser Handmade Tile Decorative Insert in Light Gray with Pencil Liner Trim, 3x6" Handmade Subway Tile in Glossy White



2. Take It To The Ceiling



Instead of installing soffits above your cabinets or leaving open space up there for plants to collect dust (lol), try taking your upper cabinets all the way up to the ceiling. Not only will this give you more storage space, but it'll also make your ceilings appear taller than they actually are. Anywhere you can take your tile backsplash up to the ceiling will have the same effect. Here's a kitchen showing both the cabinets and backsplash going up to the ceiling.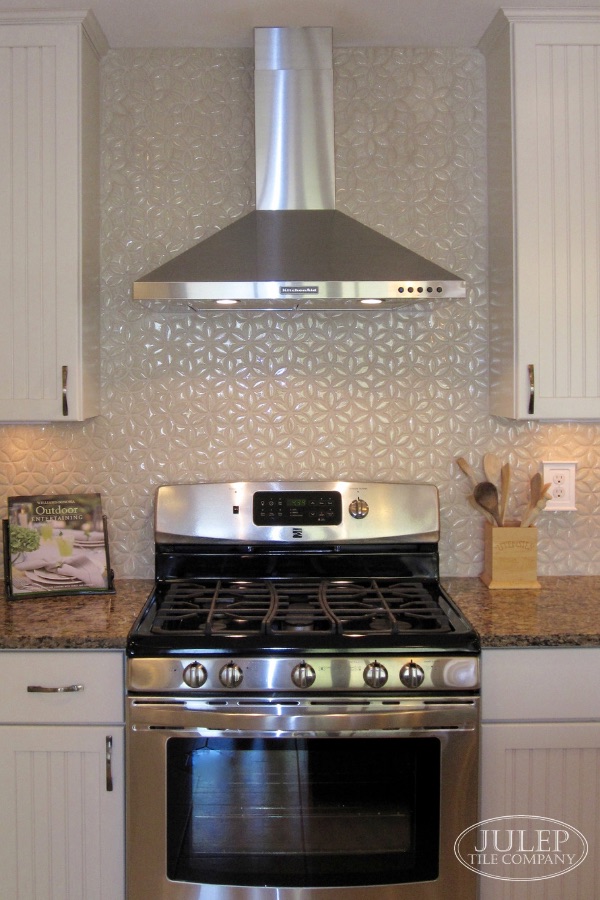 Shown Above: Bloom Handmade Tile in FC Cream Crackle



3. Tricks With Lighting



Having lots of natural light will help make your kitchen feel bigger, but for spaces without this, don't worry. Getting creative with lighting can give you the similar effect to a space dripping with sunlight. Aside from well-placed recessed can lights overhead, your next best friend is under cabinet lighting. Adding lighting here adds to the color illusion we were aiming to achieve in Tip #1 by making the colors from the counters up look especially light and bright. (Plus, it makes it easier to see what you're doing when you're cooking!)

Shown Above: 3x6" Handmade Subway Tile in Light Blue Watercolor


4. Open Shelving



The verdict's still out with us as to whether or not we could swing open shelving in our own kitchen. I mean, maybe if you're an avid duster? We can't argue with the fact that they look fabulous though, and they certainly help make the space feel more open. If you have ample storage in the bottom cabinets, you could probably get away with no upper storage at all!

Shown Above: Bloom Handmade Tile (niche over range) & 3x6" Handmade Subway Tile in Sky Blue Crackle. Thanks to Alexa Interiors and Decorative Materials for coordinating this project.





5. Organization & Styling





Nothing makes a space feel small and chaotic like clutter. Perhaps the easiest, cheapest way to make your space feel bigger (and calmer) is to spend a few minutes storing things that don't need to be out on the counters. We love how the glass jars and potted plants in this kitchen make it look pretty and organized:

Shown Above: Cobham Handmade Tile in Slate Gray


Do you have a small kitchen? Try a few of our tips and let us know how it goes!

Need samples? You can find those here: