Choosing tile can seem overwhelming and stressful. You're often making decisions about many other finishes at the same time, or perhaps you're trying to find tile that matches existing cabinets and countertops.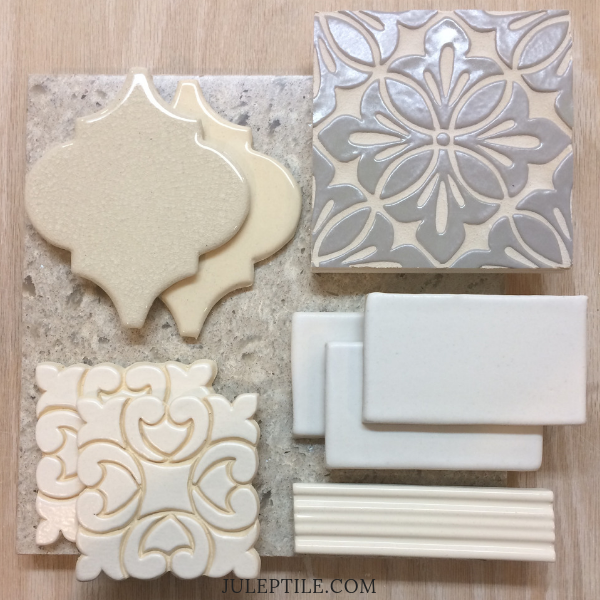 Shown Above (Left to Right, Top to Bottom): Arabesque in Cream Crackle & Buttercup, Cobham handmade tile in Slate Gray, 3x6" Subway Tile in Glossy White, Hiser handmade tile in Satin Soft White, Fancy Ridged Bar in Eggshell
Regardless, in it's simplest form, finding the perfect tile is only comprised of two things:
1. Picking a tile color
2. Picking a tile pattern

That's it! So, in order to keep the tile selection process as easy as possible, we're doing a two part series to help you easily make both of these decisions. Today we're talking about:
How To Pick Your Tile Color
SCENARIO #1: You're starting from scratch (new build or total gut job) and don't have cabinets or countertops picked yet
The world's your oyster! You have tons of options on how you could design your space but here's where we would start. First, have any colors or finishes been selected for the rest of the house? Often, design for the entire house can come from something as simple as a patterned pillow on your couch. If so, look there to see if you could pull any colors for your cabinets, counters and tile.
If you literally just bought a plot of land and nothing has been decided yet, consider letting your tile be the inspiration for your house! You could choose a two color backsplash and then find ways to repeat these colors throughout the house. If you do, be sure to keep tile samples in your chosen colors handy as they will be useful as you're shopping for pillows, furniture, paint and other hard finishes.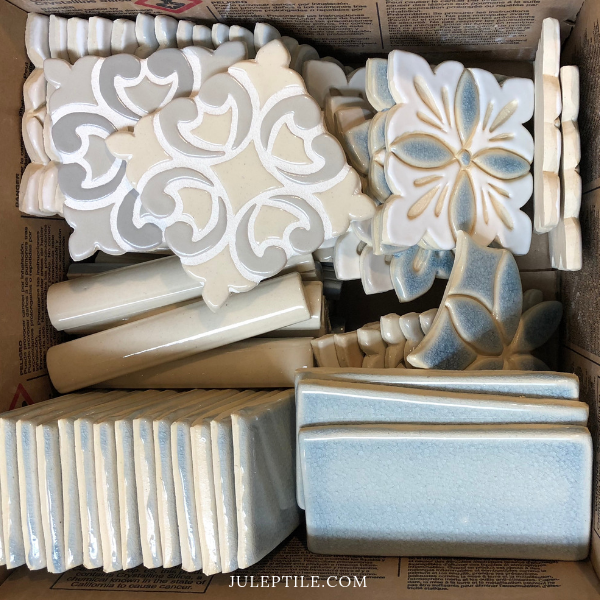 SCENARIO #2: You have already selected your cabinets and countertops

The good news is you're making progress in your renovation! The bad news is that trying to find the magical backsplash that will tie your cabinets and countertops together can feel like finding a needle in a haystack - especially when it comes to coordinating your backsplash and countertops.
Not to worry! Here are our top tips:

1. Identify The Colors In Your Countertops
Marble, quartz, and granite countertops are often comprised of several different colors - Choosing a backsplash in one of these colors can help pull your kitchen together. However, if for instance your countertop only has teeeeeny tiny specks of blue, installing a blue backsplash may not make sense. Think of the colors you can see in the countertop when you step back a few feet and start there.
Please note this technique may not always work - For example, if you chose black or soapstone countertops, installing an equally black backsplash may not be the best choice. In that case, we'd advise moving on to tip #2.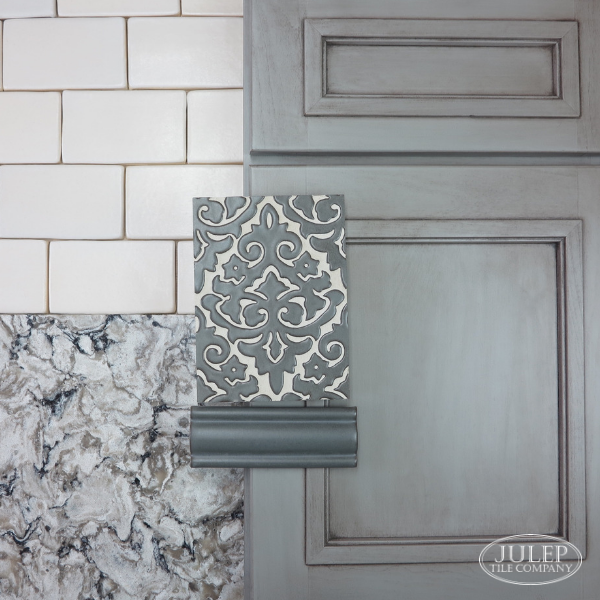 Shown Above: 3x6" Handmade Subway Tile in New Satin White (top left), Damask Handmade Tile & Chair Rail in Steel Gray (center)
2. Pinterest Is Your Friend

Pinterest is a great place to brainstorm ideas for your tile color. Try searching for your cabinet and countertop colors - For example, try searching for "white cabinets black countertops" or "Arctic White Quartz" and see what images pop up. Often you may see examples of backsplash colors that look great with your specific cabinets and countertops.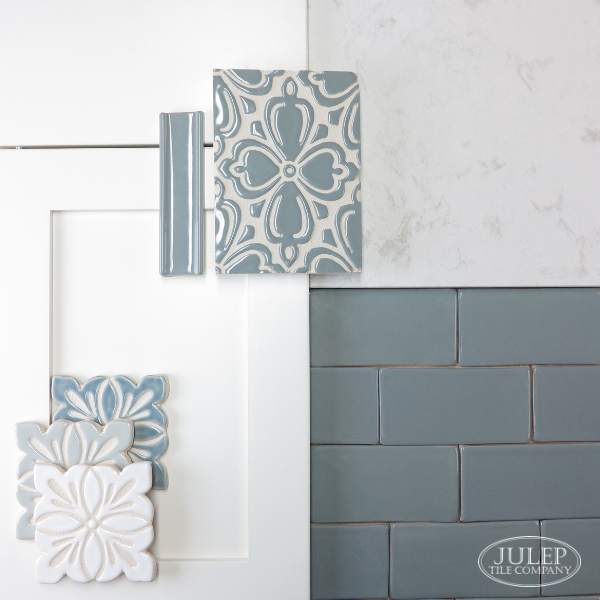 Shown Above: Brocade Handmade Tile & Fancy Flat Bar in Blue-Gray (center), Cobham Handmade Tile in Glossy White, Light Gray & Light Blue Watercolor (bottom left), 3x6" Handmade Subway Tile in Blue-Gray (bottom right)
3. Learn The Countertop-Backsplash Rule
Regardless of where you are in the renovation process, when it comes to picking the right colors for your backsplash we would advise following this simple rule:
If your countertop is busy, pick a simple backsplash. If your countertop is simple, you could choose a busier backsplash.
For our purposes here, our definitions of "busy" and "simple" are as follows:

BUSY - A finish that has a lot of contrasting colors (i.e. black tile with white grout, or a countertop with light and dark colors)
SIMPLE - A finish that does NOT have a lot of contrasting colors (i.e. white tile with white grout, or a solid colored countertop)
EXAMPLE: Busy Countertop + Simple Backsplash



If you have a "busy" countertop like the one below, you might choose a backsplash and grout that are similar in color. Even if the backsplash has a lot of pattern in it, it will read like a single color: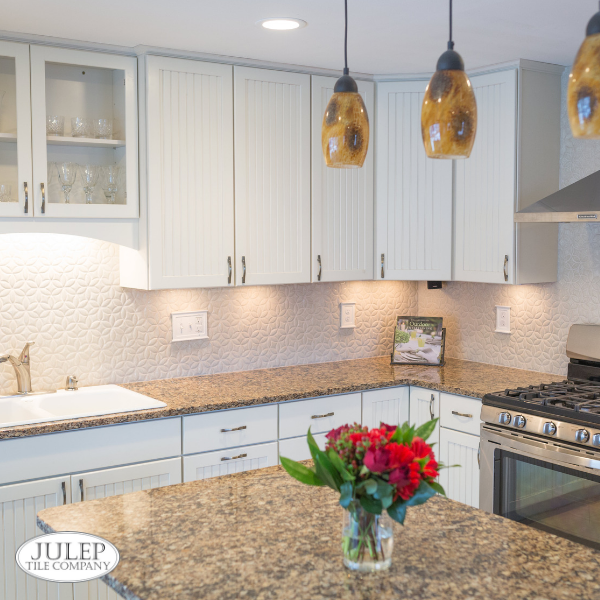 Shown Above: Bloom Handmade Tile in FC Cream Crackle
EXAMPLE: Simple Countertop + Busy Backsplash



The photo below is an example of the reverse: A "simple" countertop and "busy" backsplash.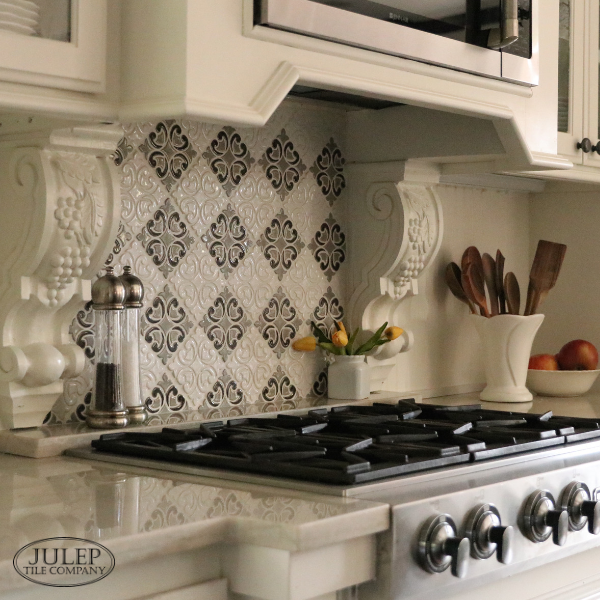 Shown Above: Hiser Handmade Tile in Glossy White, Two-Color Hiser Handmade Tile in Slate Gray & Black Watercolor
Get the idea? It's one of our favorite tricks for helping clients find the right backsplash.
Need help? Give us a call! We love talking about renovation projects. Ready for samples? You can find those here:

Did you know we also have a FREE eBook? It has even more design tips for finding the perfect backsplash: