Posted by Kirsten Sharp on Dec 3rd 2020
If the extra time you've spent at home this year has you thinking of doing a kitchen remodel, you're in good company. There's nothing quite like spending eight hours a day working from your kitchen island to give you the opportunity to dissect exactly what you don't like about your kitchen.
In hopes of giving you some ideas on what you would like in a new kitchen, today I'm counting down our top kitchen trends for 2021. So without further ado, let's get started!
Kitchen Trend #5: Wood Accents
From cabinetry to oven hoods, natural wood accents seem to be popping up more and more. I wonder if this has something to do with the rising popularity of white kitchens, as adding wood is a great way to keep them from feeling cold.

That's precisely what our friends at Splendid Home Design did in the beautiful white beach house kitchen below. The wood island with butcher block instantly warms up the white cabinets and adds interest at the same time.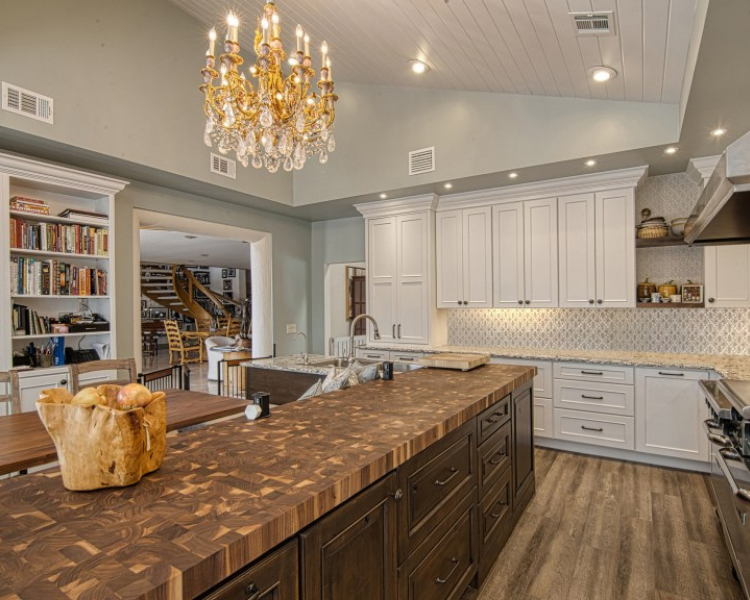 Shown Above: Brocade Handmade Tile Backsplash in Light Gray & Satin Silver / Photo & Interior Design: Splendid Home Design
We also love the gorgeous chandelier pendant above the island, which brings us to our next trend...
Kitchen Trend #4: Pendant Lights With Character
As you may have already discovered, there are a million different options for pendant lighting. From traditional to ultra modern, pendant lights are a great opportunity to add character to your kitchen. Much to the dismay of my husband, I personally have a soft spot for chandeliers like the one shown in this charming lake house kitchen: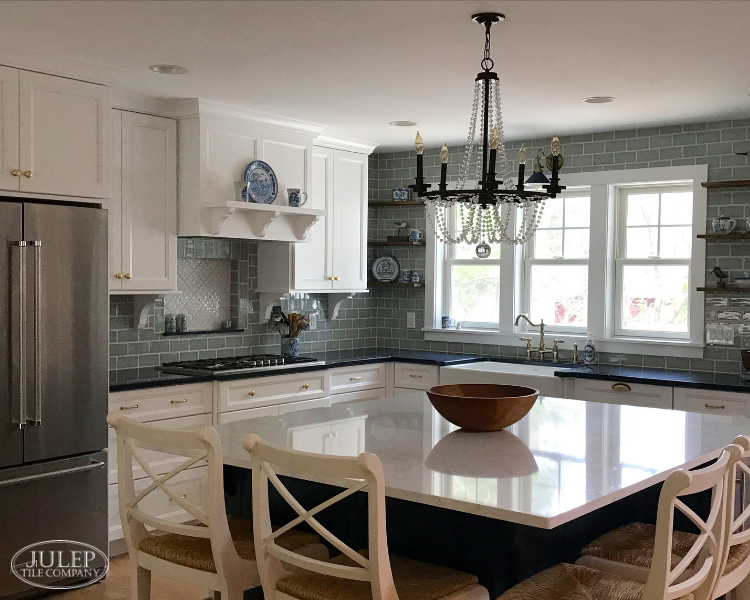 Shown Above: Hiser Handmade Tile in Glossy White (niche) & 3x6" Handmade Subway Tile in Julep Crackle (backsplash)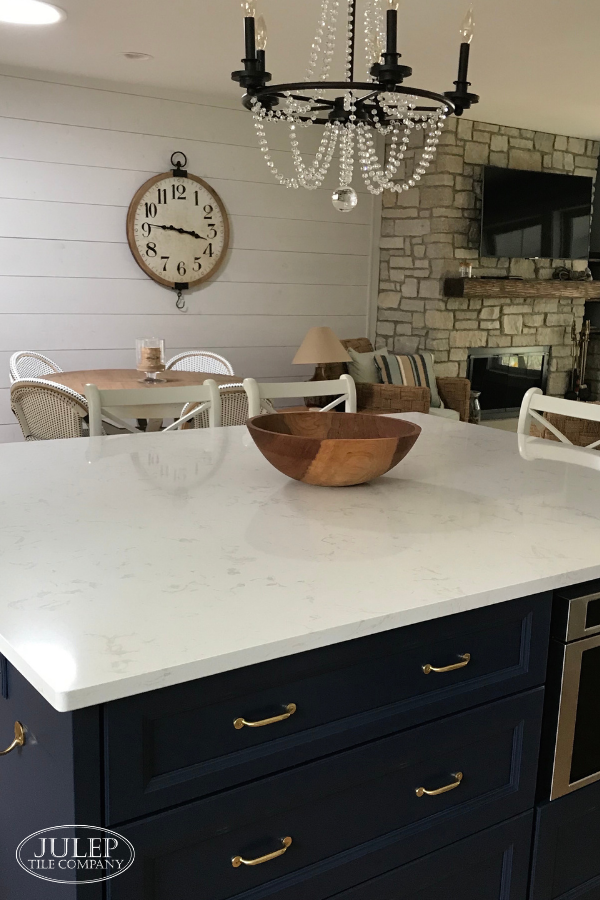 Kitchen Trend #3: Colorful Oven Ranges
Originally introduced in the 50s, colorful appliances were seemingly replaced with stainless steel in the late 90s. While it still may seem like a stainless steel oven range is your only choice, there are actually quite a few companies that offer more colorful options - Viking, Blue Star, Kitchen Aid and AGA to name a few.

I was introduced to AGA the first time I visited my husband's parents in England. My mother-in-law cooks a mean treacle tart using their nearly 90-year-old AGA range (yes, 90!) which uses oil as fuel. Pretty crazy right? If you live in the US like me but love AGA, you'll be happy to hear they recently started offering their ovens in the States. It's a fairly high-end choice for an oven, but gosh they're neat.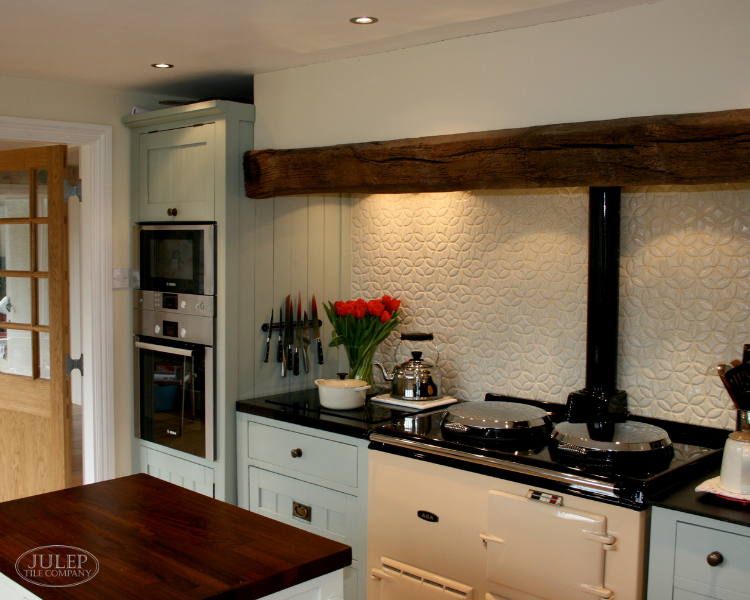 Shown Above: English Cottage Kitchen with Bloom Handmade Tile in Cream Crackle & AGA Oven Range
Kitchen Trend #2: Unique Oven Hoods
Oven ranges aren't the only place to think outside the box - Oven hoods also offer a great opportunity to get creative. With the advent of stainless steel oven ranges in the 90s, stainless steel hoods also became quite popular. With that said, lately I've seen more wooden oven hoods popping up - both stained and painted. There are also custom stainless steel hoods with more ornate details like this pretty one here: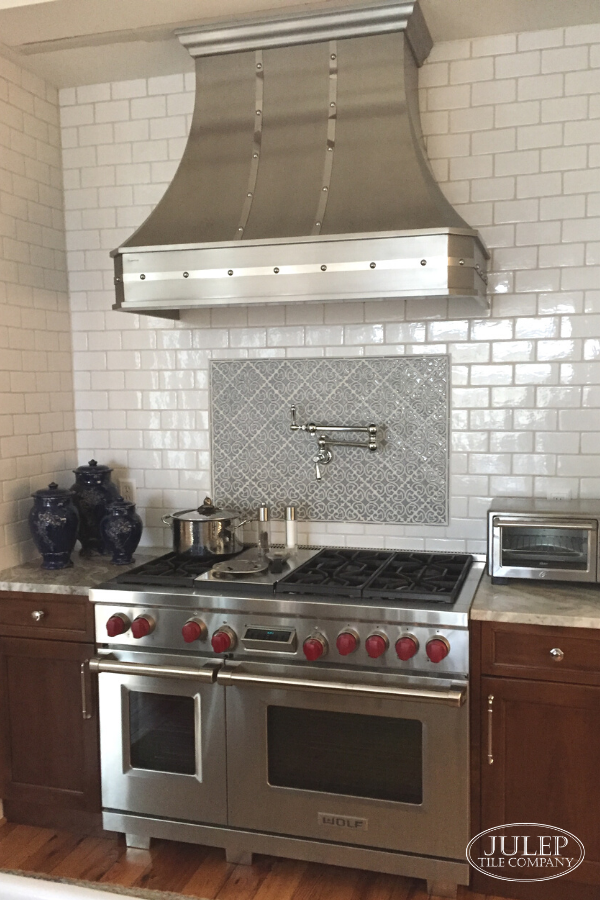 Shown Above: Hiser Handmade Tile in Light Gray & 3x6" Handmade Subway Tile in Glossy White
And finally, our number one kitchen trend (drumroll please...)

Kitchen Trend #1: White Kitchens
Ahh yes, the white kitchen. Some people love them and some people don't. I'd argue that white kitchens, while a "trendy" choice due to their current popularity, are actually quite timeless and classic. We recently did a blog post talking all about white if you're interested.

I love white kitchens because they also allow you to decorate with pretty much any color on your walls, towels, curtains, etc. And it also allows you to change the color of those accessories down the road without having to rip out your kitchen. In other words, the style of your white kitchen may last as long as a 90-year-old AGA range!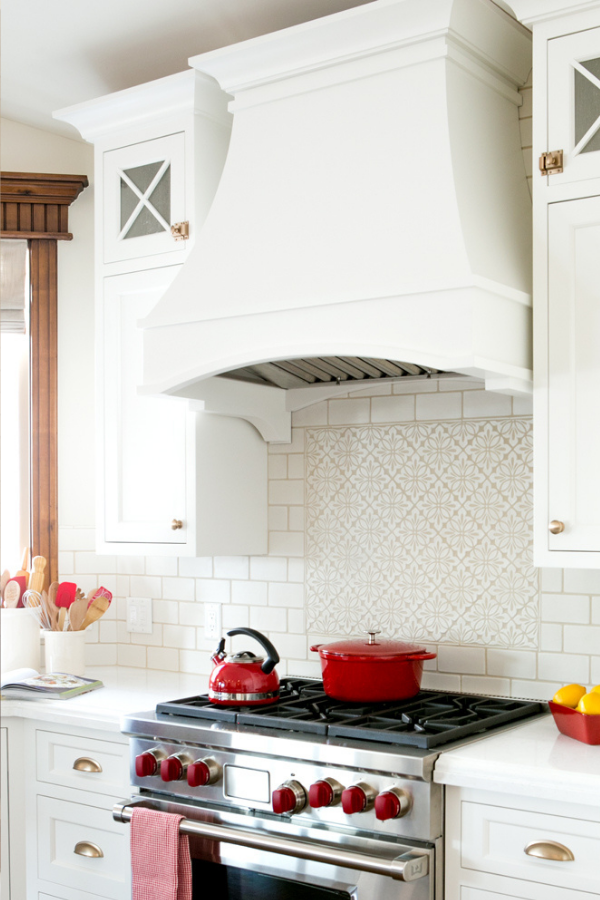 Shown Above: Cobham Handmade Tile, Pencil Liner Trim & 3x6" Handmade Subway Tile, all in New Satin White / Photo & Interior Design Courtesy of The Black Goose Design
So are you thinking about a kitchen remodel? I

f you're ready to get started and need tile samples, you can find those here: